13.03.2023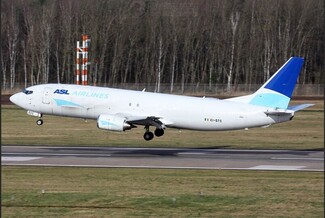 ASL Airlines France has become the latest of ASL's European airlines to be merged into ASL Aviation Holdings AMOS and to manage its own AMOS entity within the existing productive environment. In October 2022, ASL Airline France were migrated fully. In 2021, ASL Airlines Belgium had followed the same path.
The "Multi-Entity" functions in AMOS allow multiple, financially independent entities to work in one common AMOS environment. 
The project to transfer ASLB's fleet into the existing ASL Group environment was underway when COVID-19 struck. Due to the new challenges brought about by COVID-19, the project could understandably have been impacted, but it remained on track due to the project team re-organising themselves and adapting with impressive agility. Training, data migration, workshops and user acceptance testing had to be staged remotely due to travel bans and home office obligations. The project to transfer ASLF's fleet, commenced to coincide with the reopening of flight routes and the slow lifting of restrictions around Europe.  
With their extensive in-house knowledge gained from their own AMOS implementation, and the daily support of the system, members from the ASL Group AMOS Competence Center, led by Stephen Prescott, supported the implementation project in large parts, whereas Swiss-AS provided its professional expertise for the training of the 40 new AMOS users in Belgium and 90 new AMOS users in France. Now, there are 220+ users within the ASL Group, managing a fleet of 80 aircraft in AMOS.
"To have taken the bold decision to continue such a multi-faceted project, which involved parties from multiple countries and companies, whilst bringing new aircraft online and in such extraordinary circumstances that left no part of our industry untouched, was no mean feat. Adding both ASL France and ASL Belgium to an existing environment is also once more evidence of the scalability of AMOS, which is capable of managing a single aircraft or a fleet of hundreds," states Fabiano Faccoli, CEO of Swiss-AS.
"AMOS is a key project for ASL and the ASL and Swiss-AS teams demonstrated their commitment and innovative attitude in integrating both ASL France and ASL Belgium into our Group AMOS environment despite the background of the pandemic. As a result, we have made a significant step forward as we develop European centres of excellence and introduce group-wide systems that increase our efficiency and allow us to offer the best possible quality of service to our customers," said Dave Andrew, Chief Executive, ASL Aviation Holdings.
About ASL
ASL Aviation Holdings, a global aviation services company with airlines based in Europe, South Africa and Asia, is a world leader in ACMI airline operations serving major cargo and passenger airlines. Headquartered in Dublin, Ireland, ASL's six airlines include ASL Airlines Ireland, ASL Airlines Belgium, ASL Airlines France and ASL Airlines United Kingdom in Europe. ASL also have joint venture and associate airlines FlySafair in South Africa and K-Mile Asia in Thailand. The group also includes several leasing entities. ASL Aviation Holdings operates cargo services for the world's leading express parcel integrators and online retailers. Group airlines also operate scheduled and charter passenger services under its own airline brands on domestic, international, and intercontinental routes in Europe, Asia, the Middle East, North America and Africa.
ASL Airlines France, based in Paris-CDG, operates cargo services for express parcel and postal customers and also operates both scheduled and charter passenger services. The airlines has built its reputation on a quality of service in favour of its clients. ASL Airlines Belgium operates worldwide using B737 and wide body Boeing 747-400ERF freighters on scheduled flights under its own brand and for major express integrator customers. 
ASL has a global team of 3.000 people of 51 nationalities. The Group has a fleet of 130 aircraft that includes 7 aircraft types ranging from the turbo prop ATR 72 to the Boeing 747. 
About Swiss AviationSoftware and AMOS
Swiss-AS is an industry leading M&E/MRO software provider that offers an end-to-end integrated, highly intelligent software suite, designed to cover the entire spectrum of maintenance activities. AMOS, in combination with its mobile package, empowers its large and loyal aviation customer base – ranging from pure operators of all sizes, over major low-cost airlines, flag carriers, and large airline groups to MRO providers – to digitalise and automate their maintenance processes and connect with other industry solutions via the connectivity platform AMOScentral. For more information, please contact marketing@swiss-as.com.